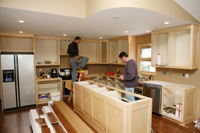 Nothing stirs the imagination like the prospect of a substantial home remodeling project. However, while home remodeling ventures do provide excitement, they can also create anxiety and stress. If you're planning to invest in a home remodeling project for your house, there are a few steps you can take early in the planning process that will help ensure that your venture is a successful one.
Create an Amateur Blue Print
Prior to a consultation with a designer or architect, you should outline your thoughts and conceive some ideas for your newly remodeled home. If you're expanding or creating a new room, imagine exactly how the area might be utilized and how the alterations might impact traffic patterns. You should also study how fresh construction might alter the context and layout of your house. A large addition might overpower your home or congest a small-scale lot. An inexpensive home decorating software computer program may help you envision your plans a little easier.
Utilize Online Resources
By analyzing the experiences of other homeowners, you can avoid your own errors and acquire some helpful inspiration. A large amount of Internet sites provide online accounts of home improvement projects. These web sites often provide response forms, discussion forums, and chatrooms that allow you ask for specific advice and get feedback on some of your ideas.
Peek Into the Future
You might be daydreaming about a roomy fresh addition, however, this sort of undertaking might not make a whole lot of sense if you are planning to place your house on the market in a few years. A lavish kitchen or bathroom may price your home beyond the average housing rates in your area. Other projects like vinyl siding could even decrease the overall value of your house. Furthermore, you and your family's needs might be quite different in a couple of years. You need to make sure your immediate plans will still make sense years into the future.
Set a Realistic Budget
No matter how good you are at planning your home remodeling project, the odds are, it will probably cost a bit more than you can anticipate. Before you fall in love with that expensive ceramic tiling, you need to find out just how much money you can afford to invest. When it comes to remodeling your home, you need to ensure that you have a buffer against unexpected costs. If vital necessities are hacking a chunk out of your savings, try to secure a home improvement loan or explore alternate forms of financing.
Make Sure Everything Is Legal
In most states, a specific permit must be obtained prior to making any structural alterations to your house. A construction permit ensures that the remodeling project adheres to strict local construction codes and safety requirements. Although, most general contractors tend to attend to the usual paperwork, many amateur workers do not. If you are working with small-time professionals, it will probably be up to you to secure the necessary paperwork.